Kelly Stuart – Together, We Make Great Things Happen
Article from the Brunswick County Real Producers Magazine.
Written by: Heather Pluard
Photos by: FOCIIS Photography
'If you build it, they will come' works differently in commercial real estate. Businesses aren't the first to locate in any given area; people are. And ever since Covid changed how people work, families have been flocking to the greater Wilmington region. As a result, building permits in Brunswick county increased 570% in just one year, and continue to climb.
"The challenge facing the South Brunswick Islands is the disconnect between the positive story we have to tell and the data relied upon by the businesses that we work to attract to provide the services needed and desired by the year-round residents and vacationers to the area. Finally, we have the data to back up the story," says REALTOR® and 2023 President of REALTORS® Commercial Alliance Southeastern North Carolina (RCASENC), Kelly Stuart. "Brunswick County and the entire Wilmington Region is hungry for more retail, restaurants, and professional services to serve our growing population. The South Brunswick Islands used to be more of a retirement community with high net-worth individuals and couples migrating south for their primary or secondary residence. Now, since COVID, we anticipate families and kids pouring into the area, living here full time and drawing businesses attracted by the shift in demographics. Without the increase in rooftops occupied by year-round residents, we don't have the numbers that retailers need to justify a new or expanded location." Any REALTOR® with an interest in listing commercial property or representing Buyers or Tenants searching for their next business location can join RCASENC to access educational workshops, networking opportunities, and professional camaraderie with the area's most respected industry leaders. Most important, membership in RCASENC gives you access to the NC Commercial MLS, utilized by Commercial Brokers across the state and syndicated out nationwide. Since 1975, RCASENC has raised the industry's bar by increasing the professionalism, public perception, and profitability in commercial real estate. Today, the group has over 440 members from 172 firms in 16 area counties. 
"If agents are seriously interested in commercial real estate and working in this market, we are your go-to resource to do it well," Kelly says. "But we also love to partner with residential REALTORS®. Clients buying and selling homes are often small business owners, too, so we constantly refer back and forth. We like partnering with residential agents not familiar with the potential pitfalls that are common with commercial real estate transactions but want to add value to their client's experience. We routinely host referral networking events and provide speaker programs on topics of interest to both residential and commercial agents. The RCASENC welcomes everyone!"
A North Carolina native, Kelly joined her father as a partner in their commercial real estate business after spending two decades in economic development. "I used to recruit businesses on behalf of the communities I served, promoting the area and the local site and building inventory, and finding companies who were the best fit for the place and the product," Kelly says. "Economic development and commercial real estate are basically the same things. You must know your community, including your labor force, your product, planning & zoning regulations, and the permitting process."
After much success in her new-found career as a commercial agent, Kelly opened the first satellite office for Coldwell Banker Commercial Sun Coast Partners with her father last year. "The Wilmington office was looking to expand into our market and needed someone to head up their office in the South Brunswick Islands," Kelly says. "I pride myself on being the local expert, with two of the top three commercial transactions in Brunswick County in 2022, and I care very much about what I do and the community I serve. I enjoy helping small businesses, building personal relationships, and watching my clients thrive. It's rewarding to walk people through a complex process they may not understand or be able to navigate independently and achieve their dream of business ownership."
As RCASENC President, Kelly's primary goal is to increase its value to members through education and networking. "It's not just what you know but who you know that can make the difference," she says. "That's why we encourage commercial agents, residential agents with an interest in commercial real estate, and service providers to the commercial community to join us and see what we're all about. We learn from each other and increase our respective opportunities. The NC Commercial MLS, powered by Catylist, now has the economic and market insights from Moody's Analytics CRE and serves as our marketing platform across the US. We continue to expand our business reach by partnering with other Commercial Associations and Boards and through the CCIM Network, commercial real estate's most coveted credential, which represents proven expertise in investment analysis."
Since joining Coldwell Banker Commercial Sun Coast Partners, Kelly's reach has increased with commercial brokers representing businesses expanding into the area, and she has a seat on the Board of Directors of North Carolina REALTORS®. "I love getting in front of the people making the decisions," she says. "I want our profession to be represented the best it can be. I'm proud to be a part of organizations that help our community and other REALTORS® succeed, and I look forward to aggressively growing the RCASENC's boundaries beyond the 16 counties we represent because commercial real estate isn't just local; it's global. Building a solid real estate business takes time, knowledge, and networking. Joining the RCASENC is a wonderful first step."
To learn more, please visit https://rcasenc.com or reach out directly to Kelly Stuart, 2023 RCASENC President, at Kelly@CarolinasCommercial.com.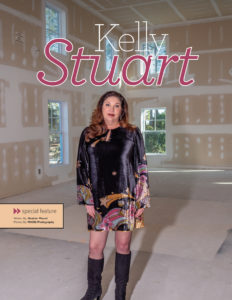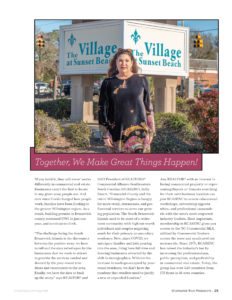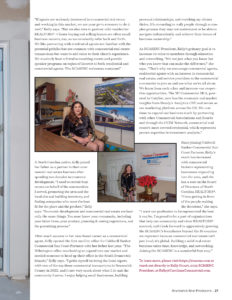 Read More